Unpacking How Americans Spend Their Time at Home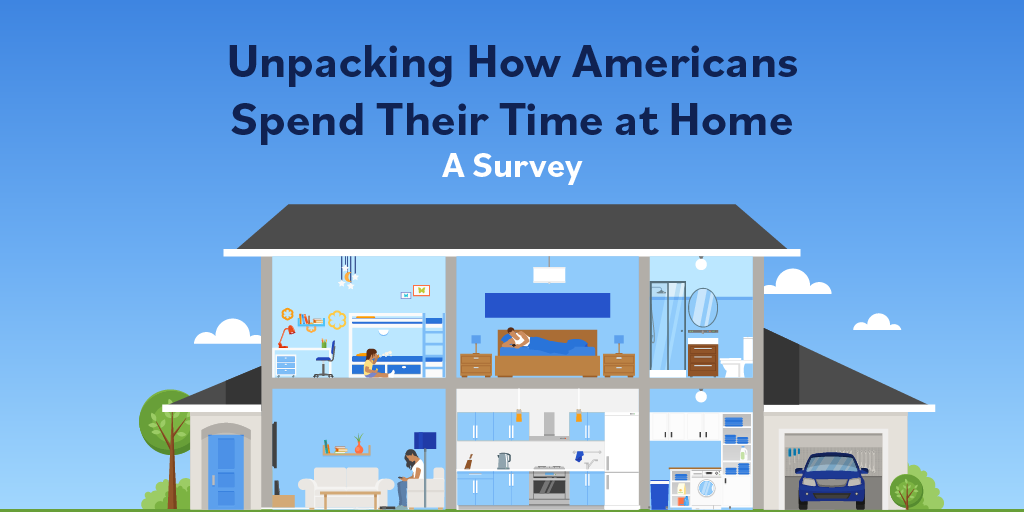 From watching movies in bed to cooking, hosting parties, and relaxing after a long day, Americans have always spent a significant amount of time at home. However, the pandemic brought a transformative shift to their daily routines down to the minute, impacting habits like increased screen time, video gaming, and sleep.
As we've transitioned back to many of our normal habits, we wanted to gain insight into the evolving, post-pandemic lifestyle of Americans. That's why we commissioned a survey spanning from coast to coast, asking people from every state to estimate their weekly hours spent at home and the breakdown of time across various rooms such as their bedroom, living room, and office. Keep reading to discover the best rooms in a house and find out how Americans leisurely spend their days in them.
Americans' Time Use at Home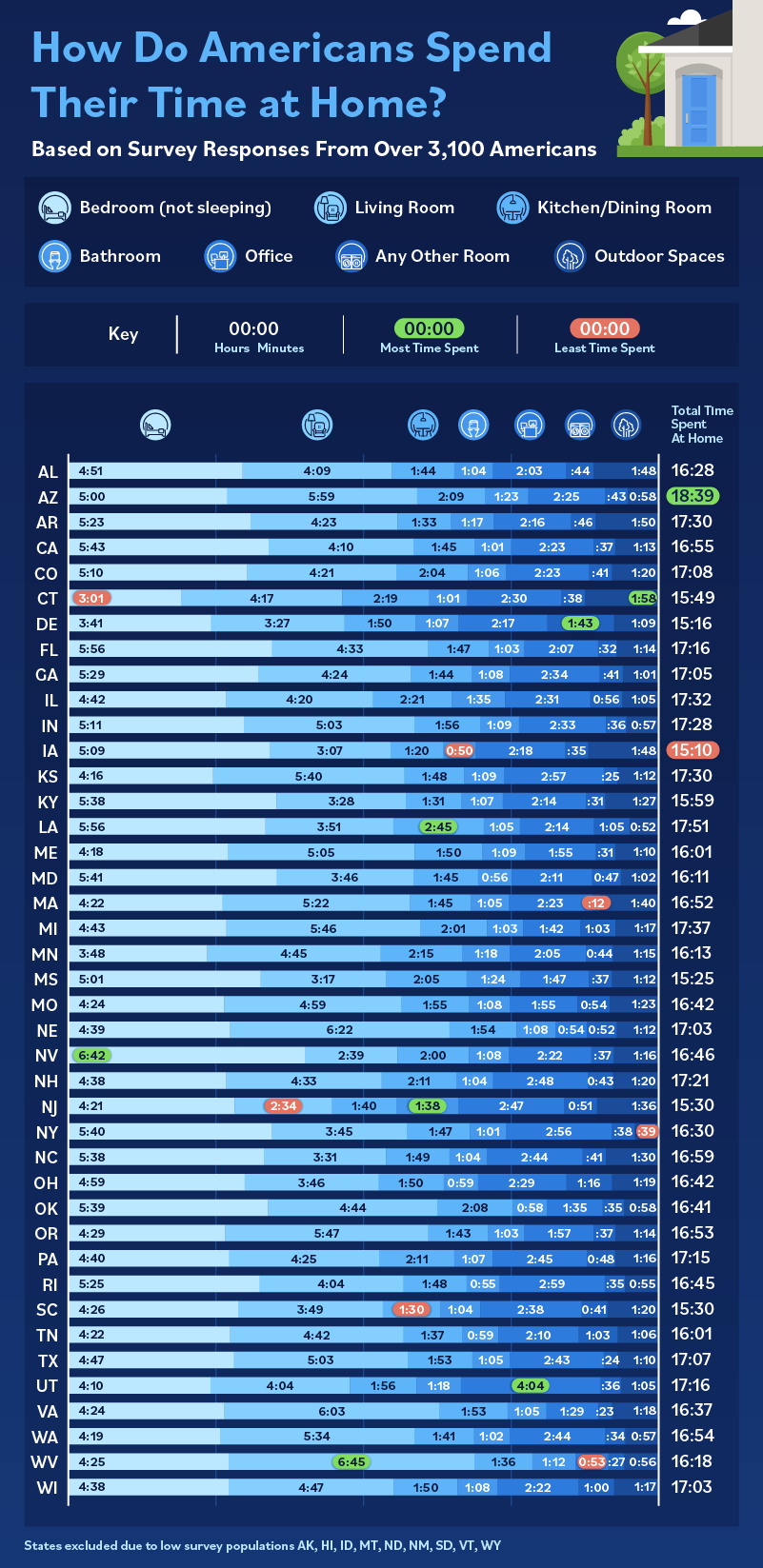 From baking muffins in the kitchen to crunching numbers in the home office and engaging in various household tasks, we wanted to find out how Americans spend most of their time at home.
Surprisingly, Arizona residents emerge as major homebodies, dedicating a whopping 18 hours and 39 minutes per day indoors. This could be possibly attributed to scorching summer temperatures, like those reaching 105°F in Phoenix.
On the other hand, Nevada residents excel in bedroom hangouts, spending a remarkable 6 hours and 42 minutes in this space a day for activities other than just sleeping.
Louisiana residents top the charts, spending an average of 2 hours and 45 minutes in their kitchen and dining room, while those in New Jersey take the lead, dedicating 1 hour and 38 minutes to their bathroom – perhaps multi-tasking with emails and their phone in hand.
Conversely, certain states claim the title for spending the least time at home, with Iowa residents staying indoors for just 15 hours and 10 minutes per day on average.
In South Carolina, residents spend the least amount of time in their kitchen and dining room, with an average of only 1 hour and 30 minutes. This could be attributed to the abundance of incredible seafood, farm-to-table, brunch, and steakhouse restaurants in areas like Hilton Head and Greenville, tempting residents away from home cooking.
Meanwhile, West Virginia residents dedicate merely 53 minutes per day to their home office, potentially influenced by proximity to the D.C. area, suggesting that some may prefer commuting to work rather than working from home.
Unsurprisingly, New Yorkers spend the least amount of time in their outdoor spaces, averaging just 39 minutes a day. New Yorkers may lack certain types of rooms due to space constraints, but they have the luxury of enjoying iconic parks like Prospect Park or Central Park instead.
Other notable mentions include Iowa, where residents spend only 50 minutes in the bathroom, the lowest compared to any other state, and Connecticut, which dedicates a mere 3 hours and 1 minute to their bedrooms daily for non-sleeping activities.
How the Average American Spends Their Time at Home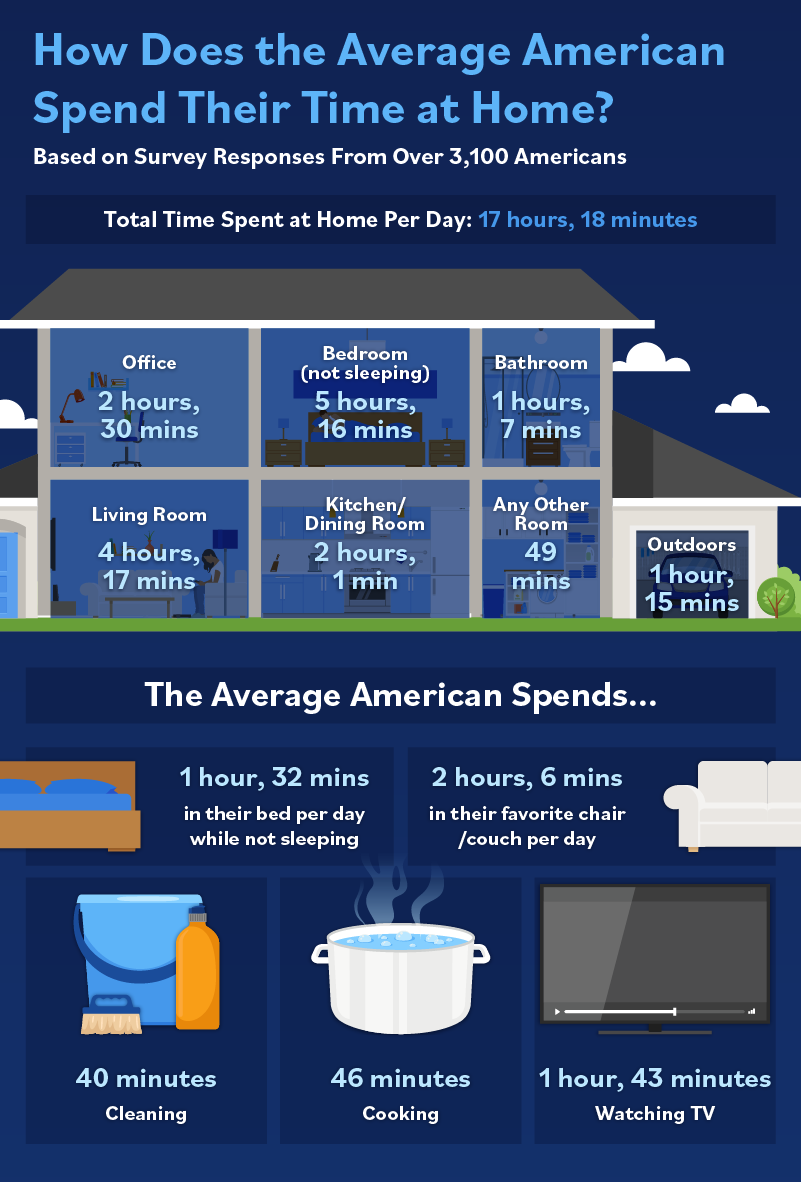 For this next section, we wanted to dig deeper and get a play-by-play on how the average American spends their time at home and where they like to spend the most time.
On average, most Americans spend a total of 17 hours and 18 minutes in their abodes, with the bedroom taking the lead as the most cherished space, occupying just 5 hours and 16 minutes of their day.
Zooming in on how Americans allocate their time, we discovered that they spend approximately 1 hour and 32 minutes engaging in non-sleeping activities in their beds. If you're looking to upgrade your sleep, explore our selection of beds, offering twin, full, queen, and king sizes, in a variety of styles.
After a tiring day of work, it's common for Americans to unwind by kicking their feet up and relaxing. They dedicate roughly 2 hours and 6 minutes to their favorite chairs or couches.
Planning a family movie night? Our collection of sofas provides both comfort and affordability for your entertainment needs.
On a typical day, Americans dedicate around 40 minutes to household tasks like cleaning and approximately 46 minutes to cooking.
The bedroom emerges as America's favorite room in the house, with 40% of respondents choosing it as their top pick, followed by the living room at 32%, and the porch/yard at 10%. For those seeking a tranquil retreat, creating a zen bedroom with all the essentials is a must.
Interestingly, younger generations show a strong preference for their bedrooms, with 63% of Gen Z participants selecting it as their favorite room, in contrast to only 20% of Baby Boomers who feel the same way.
According to our findings, in 10 Americans (39%) consider the kitchen the most crucial room when looking to buy a home, as it is often deemed the heart of the home. In contrast, approximately 1 in 4 (24%) prioritize the living room.
Upon closer examination, we observed that only 28% of Gen Z respondents believe the kitchen is the most important room when buying a home, whereas a higher percentage of 50% of Baby Boomers share this view. Additionally, 48% of women concur that the kitchen is of utmost importance in a home purchase, while 30% of men share the same sentiment.
When given the opportunity to add one bonus room to their houses, 26% of Americans would choose a workout room, 26% would prefer a sunroom, 17% would opt for an outdoor space, and 15% would go for an office. These choices showcase the diversity of preferences when it comes to selecting different types of rooms for additional space. However, the preferences vary by gender, with 29% of men selecting a workout room as their top choice, while 34% of women favor a sunroom.
Given that approximately 64% of Americans own their homes while 36% opt for renting, we sought to explore Americans' perspectives on which rooms in a house they deem most crucial when renting.
In the context of renting, 30% of Americans believe the bedroom is the most significant room in the house, closely followed by the kitchen (27%) and the living room (21%). This trend is notably influenced by 47% of Gen Z respondents who highly prioritize the bedroom, compared to a smaller percentage of 19% among Baby Boomers who feel the same.
For those in need of furnishing a bedroom, we recommend considering a bedroom set, which provides all the essential elements such as a bed, nightstand, dresser, and mirror for a complete and functional setup!
Closing Thoughts
Our findings undeniably reveal that Americans are dedicating significant amounts of time to their bedrooms, living rooms, and their favorite couch. Since you're most likely spending a ton of time at home, why not make it someplace you truly enjoy being?
At American Freight, we offer a wide selection of furniture that can turn any room into your favorite spot. Whether you're looking for living room or bedroom furniture, or seeking brand-new or open box cooking appliances to craft your dream kitchen, we have everything you need to make your home a place you love to be in!
Methodology
To find out how Americans spend their time at home, we surveyed over 3,000 people from 41 U.S. states over a 2-week period in July 2023. We asked respondents how much time they typically spend at home, how much time they spend in different rooms of their homes, and how much time they spend doing different common household activities per day.
By getting a ratio of hours spent in various rooms to how much time they spend at home overall, we were able to determine the average number of hours and minutes residents in each state spend at home.